That's right, I did it! I feel like singing the Dora song. My DH suggested I move the exercise machine (I have a Gazelle) into the living room so I could work out while watching TV. So I hauled it down the hallway and found it a nice spot in the living room. We then joked that I could hang my coat and purse on it when I come home from work, but I have real intentions of using it. I'm giving it two weeks. In two weeks we are having a garage sale, so if it doesn't get used often during the next two weeks, it is going up for sale at the garage sale. Well ... Day 1 is a success! I ate breakfast and got on the Gazelle for about 10 minutes this morning while I watched Real Housewives of Orange County.
(I'm not sure why I'm obsessed with these Real Housewives shows, but I love them all!)
Maybe tonight I can go walking on the Gazelle while I watch Desperate Housewives, since I fell asleep last night before it even came on.
If I force myself to wait to watch my DVR shows only while on the Gazelle this could turn out great for me. Let's hope it works!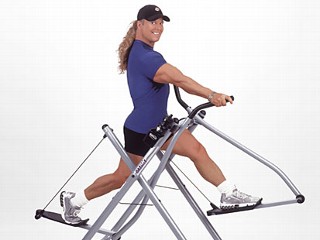 I only wish I could look as awesome as Tony Little on my Gazelle! ha!