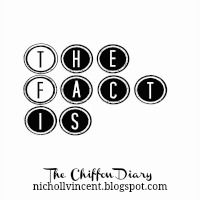 Fact: I truly enjoyed my Black Friday shopping even though some things were sold out on my list.
Fact: I may be am obsessed with entering blog giveaways. I never win anything but I still keep entering!
Fact: I've got A home with me today because she's sick. At least she's just got a runny nose and fever sick and not pukey sick. I despise puke.
Fact: Trying to find a new job sucks.
Fact: I really enjoyed having 4 days off work, but now this week of 5 days seems much more difficult and LONG.
Fact: I haven't written a blog post for so long, I feel like a slacker.