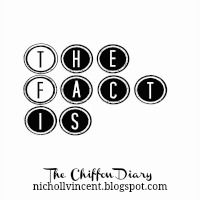 Fact: I wonder if 4 day work weeks are a good thing, there's the same amount of work to cram into a shorter amount of time. I'm not going to deny my love of 3 day weekends though.
Fact: I ripped the wallpaper down in our bathroom over 3 weeks ago and I haven't done a thing to it since. It's a bit of a disaster in there. Damaged walls, no outlet covers, no towel bar. Yikes!
Fact: I spend too much time looking at Pinterest and blogs while at work (like right now).
Fact: I need a babysitter for Friday night so my DH and I can go on a double date. We could take the kids (since we are going to our favorite restaurant), but sometimes we just need a break!
Linking up with Nicholl this week from The Chiffon Diary. Which by the way she has the cutest online shop and I can't wait to get my new skirt - hello it was only $10!!